This month is National Nutrition Month and I am excited about the theme for 2016: Savor the Flavor. This month's focus is to celebrate your favorite food experience, whether it be with your family during the holidays, a special memory between you and your loved one, or your first homemade dish you were proud of. Do you remember the flavors or how your home smelled when it was ready to dish up?
For the month of March, the Academy of Nutrition and Dietetics is spreading the message to us to also celebrate different food cultures. Understanding how to use herbs and spices in cooking is advantageous as you can develop some memorable meals that are simple and pack a nutritional punch. Here are some noteworthy cuisines according to registered dietitian nutritionist and Academy Spokesperson Libby Mills:
·
China: Low-sodium soy sauce, rice wine, ginger
·
France: Thyme, rosemary, sage, marjoram, lavender, tomato
·
Greece: Olive oil, lemon, oregano
·
Hungary: Onion, paprika
·
India: Curry, cumin, ginger, garlic
·
Italy: Tomato, olive oil, garlic, basil, marjoram
·
Mexico: Tomato, chili, paprika
·
Middle East: Olive oil, lemon, parsley
·
Morocco/North Africa: Cinnamon, cumin, coriander, ginger
·
West Africa: Tomato, peanut, chili.
If you have a comfort level with just a few herbs, try introducing a new one, one at a time to expand your horizons with new flavor combinations. Food is truly designed to nourish your body and fuel yourself for disease prevention and longevity. A simple change could be serving a protein with a new sauce or dressing.
This
can be done in just a couple minutes. One of my favorites includes plain yogurt (I prefer whole milk yogurt), add a squeeze of fresh lemon, dash of cumin or curry powder, drizzle of honey and 1/2 tsp. garlic powder. Stir together and drizzle over salmon or serve in a little ramekin dish for fun. The combination of the fatty ('good fat') fish and Indian flavors from the spices will heighten your taste buds even further.
For the children, a fun way to
experiment
with flavor could start at breakfast. Experiment with different flavors on top of your favorite English Muffin (whole-grain or
multi-grain
). If their favorite fruit is apples, this is a great way to increase their intake of fruit (soluble fiber!) with their 'always' food, but introducing a new spice, Cinnamon.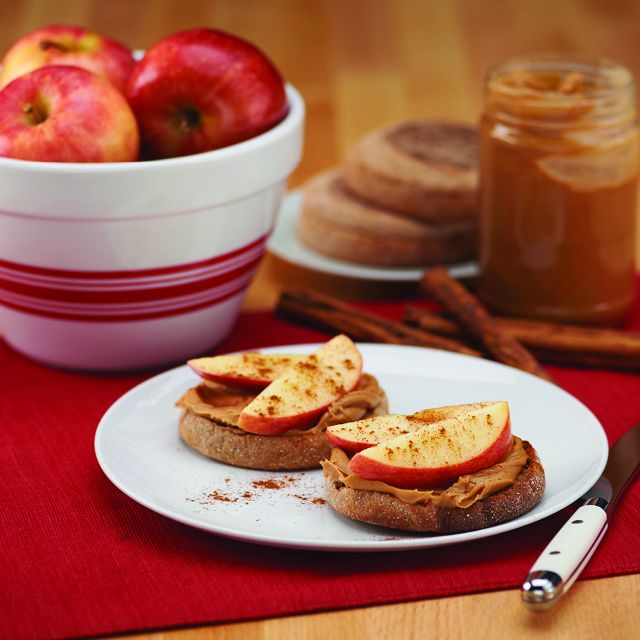 Have an adventurous month in your kit
chen!